Working Remotely, Living Here
Rick Knudson finds big town amenities with a small town vibe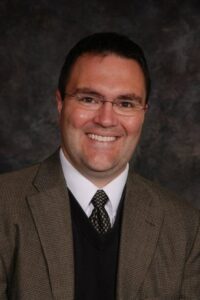 In 2020, working from home became a topic pushed to the forefront of our cultural consciousness. Soon many people found that connecting via Zoom or Microsoft Teams was an efficient, effective way to continue with the flow of a workplace.  Employees found they had been thrust into a new normal in their workday, having to roll with the punches and adjust to working from home – and many found themselves wondering, would I want to live in this city if my job wasn't based here? For Clear Lake resident, Rick Knudson, it's nothing new. Rick has been working from home for many years, finding his optimal work-life balance through remote work.
Rick is the Executive Director of Clinical Pharmacy at Mount Sinai Health System in New York City. He is responsible for the oversight of all drug-related therapy across the health system and, as he does not provide direct care to patients, he's able to live wherever he pleases. Of all the places he could choose, Rick and his family settled in Clear Lake, Iowa, finding it the perfect fit for his family of five.  His wife, Jen, works for North Iowa Area Community College in Mason City and their three children attend Clear Lake Community Schools.
Rick's path to North Iowa was an interesting one. Originally from northwest Iowa, Rick received his pharmacy degree from Drake University. After graduating with his Doctor of Pharmacy, he moved to South Dakota for residency training in health system/hospital pharmacy. Once completed, he took an entry-level position at Mercy Medical Center (now known as MercyOne North Iowa) in Mason City. After five years of clinical practice, he moved into a consulting role based out of Charlotte, North Carolina. It was the beginning of Rick's remote career, allowing for flexibility as Rick and his wife moved to Ankeny while Jen finished her master's degree. After the birth of their twins, and the news that another bundle of joy was on the way, the Knudson family decided it was time to plant roots. As their family continued to grow, they settled into the Fieldstone neighborhood of Clear Lake.
"Clear Lake is a great place to live when you work remotely," Rick says. "We love the small town feel but get to still enjoy the big town amenities."
The Knudsons can often be found spending time out on Clear Lake in the summer months, and they don't miss many concerts at the historic Surf Ballroom. Rick says, "Having experienced life in many different areas of the county, I can tell you Clear Lake is incredibly unique. We often forget that the average Iowan doesn't have a lovely lake at the end of their Main Street to enjoy any time they like."
But it's not just the fun things to do that helped the Knudsons choose North Iowa.  "I would say that I truly enjoy the people," Rick says. "Iowans, Clear Lakers in particular, are wonderful people who truly care about one another."
Prior to COVID-19, Rick traveled about once each month to his office. While the pandemic didn't change his day-to-day operations too much, it did halt his trips. The downtime has been a welcome break from the hustle and bustle of travel, but he admits he is looking forward to the time when life can return to normal and he resumes his travel requirements.
As the business world adjusts to the ease and prevalence of remote work, more and more people are choosing to take remote positions in order to live where they truly want to live. Whether it's closer to family, or to take advantage of a peaceful small town way of life with good schools and ample space, remote work allows us to live our best lives not based on employment, but on preference and quality of life. More and more people are choosing North Iowa as their preference to live, work (sometimes remotely), and play amongst the beauty of the Midwest.