Mason City Murals
Local artists create backdrop for success
Mason City is known as architectural hotbed thanks to the contributions of famous architect Frank Lloyd Wright. The Historic Park Inn, Wright's last standing hotel in the world, is located in the heart of downtown; and Wright's Stockman House can be found just east of the city's center. Architect enthusiasts flock to the area to get a look at these pieces of architectural history.
While both are landmarks are a marvel, the approach to downtown from every direction welcomed visitors with an unattractive landscape of building backs and unkempt alleys. With the Chamber of Commerce's leadership, Mason City is making strides to brand itself as a destination for Prairie School architecture, while also improving the appearance of the back side of downtown buildings with beautiful murals in the spirit of Frank Lloyd Wright.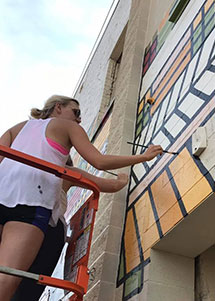 "The 'Building Our Brand' mural project is intended to make our downtown core more welcoming and beautiful," said Chamber President and CEO Robin Anderson. Thanks to a grant from the Iowa Arts Council, initially two murals were installed to jumpstart the project.
For the first mural in 2017, the University of Iowa offered the services of MFA student Ali Hval to design and paint the mural on the east side of the Brick Furniture building. She also designed a geometric pattern for the City Center building. Artist Keely Hertzel, a Mason City native, completed the mural on the fire escape stairwell of City Center and also completed murals on the north side of Central Park Dentistry and the Commerce Center.
"In addition to bringing to light the impact Frank Lloyd Wright's architecture and designs have had on the city, it is constantly inspiring how much effort is being invested in the creative community through public art," stated Hval.
With the support of local building owners who are responsible for the surface prep work, the program has taken off and now includes a total of six murals downtown. Plans are in place for additional murals in 2021, to be completed by Hertzel and Hval. The project has also spurred additional murals to pop up around the community.
Hval has found the growing mural project to be extremely rewarding. "I hope to continue honoring the cultural roots and art historical narrative of the town through murals as much as possible!"
These beautiful murals provide perfect backdrops for senior pictures of locals and discussion pieces for visitors, but true to their purpose, they connect the spirit of Wright's designs to consistently brand Mason City as a Prairie School architecture destination.