Mason City Band Festival
Celebrating the musical legacy of Meredith Willson
Mason City is well known for its annual North Iowa Band Festival celebration, held over Memorial Day weekend, which celebrates the city's rich musical heritage.
Band Festival first started in 1936 as a way to honor North Iowa and its deep passion for music. The event has continued over eight decades and provides a great celebration for the community.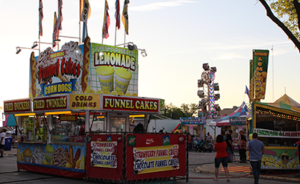 The highlight of the event is the signature North Iowa Band Festival parade, which is the largest free marching band competition in the Midwest. Marching bands from different regions come to showcase their skills, while floats from local organizations glide down the parade route through the streets where residents have gathered for decades.
A staple of the festival is a five-day long carnival, lined with amusement rides and games for patrons of all ages to enjoy. The carnival is located in the heart of downtown Mason City, which gives attendees a chance to visit the local shops and restaurants. The Main Stage, also located downtown, showcases a variety of acts each night, from local bands to dance teams. There is truly something for everyone at the North Iowa Band Festival!
The celebration was the inspiration behind the award-winning Broadway musical, The Music Man. Composer Meredith Willson, a Mason City native, set his story in River City, a cinematic parallel for Mason City. The film has always been a triumph for residents, and the annual North Iowa Band Festival aims to revisit the roots that Meredith Willson established in his hometown by providing a celebratory weekend for family fun.
Each year Band Festival recognizes a Grand Marshal, Klempnauer, and Band Master award. These awards allow individuals within Mason City to be recognized for their years of dedication to the festival and community. The North Iowa Band Festival Committee aims to provide the most entertaining event possible for the residents of North Iowa, who look forward to the celebration year after year.
For more information about the Mason City Band Festival, visit the Mason City Chamber of Commerce.