Worth Brewing
A craft beer worth the trip
These days, craft breweries are about as common as Starbucks. But that wasn't the case in 2007, when Peter Ausenhus opened Worth Brewing in Northwood, about 30 miles north of Mason City/Clear Lake.
"When we opened there were no breweries along the I-35 corridor between Ames and Minneapolis, so it was a bit of a risky proposition," Peter said. Now, people routinely travel to partake in his craft beer as well as the annual festivals that Worth Brewing hosts.
Peter says the brewery has a steady clientele that comes from Charles City, Iowa, to Austin, Minnesota. "Many come for our four seasonal fests: Olfest in February, Anniversary in March, Spring Bock Fest in April and Oktoberfest on the last Saturday of September. All feature home-cooked food, specialty beers, games and entertainment."
His favorite festival?  "My favorite would probably be Olfest because winter is a great time for strong, rich beers and it's just a bit more laid back than the others."
Worth Brewing's anniversary celebration coincides nicely with St. Patrick's Day, since it opened its doors on March 17, 2007. It was also the weekend that the Northwood-Kensett boys won the state basketball tournament, giving the city much to celebrate.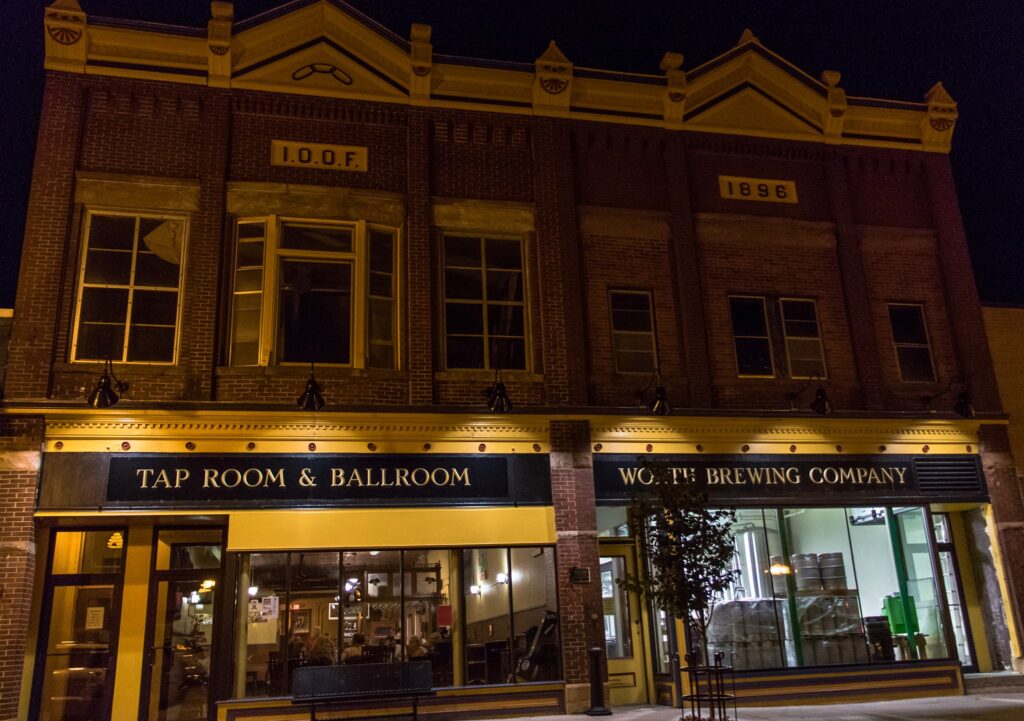 Peter and his spouse Margaret moved to the Northwood area in 1999. Margaret wanted to get out of the city, and Peter's ancestors, including his grandparents, had lived in the area. Since Margaret can do her engineering consulting work remotely, it made sense. Once in Northwood, the couple got involved in historic preservation. "Our first preservation project was the Clark Building for Margaret's business (now Signature's Restaurant party room)," Peter said.
Peter was president of the Worth County Historical Society in the early 2000s, and worked with several others to get the Northwood Central Avenue Historic District on the national register. "The city's relatively intact downtown is unique in the region," he noted. His interest in preservation extended to his brewery buildings, renovating the first in 2006-7, and the current brewery/tap room in 2015-18.
Of his brews, Peter is most proud of his Brown Ale, a staple since the brewery opened, which he called "a fairly consistent, approachable beer."
Peter's route to opening a brewery started naturally as a home brewer. That led to brewing for a professional brewery, then working with a home brewing supply company, and becoming a national certified beer judge. What you might not expect is that he has a PhD in mass communications. He worked as a reporter and editor, and planned to teach. His passion for brewing grew, however, and he left journalism, much to the delight of Worth Brewing patrons.
During the challenging conditions of running a brewery during the global COVID-19 pandemic, Peter said he was able to have all of his beers in to-go packages, thanks to his bottler, enabling him to recover about half of his on-site revenue during the shutdown. He plans to increase bottled options, including seasonal mixed-pack six packs, as well as selling some food items made on site – festival staples like mustard, cheese spread and candied almonds.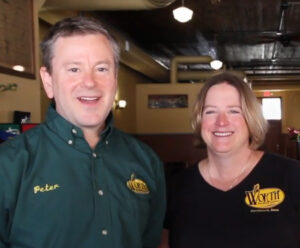 You'll find more than beer and candied almonds at Worth Brewing, though. You'll regularly find dinner options as well. "We try to give small food service businesses and guest chefs an opportunity to use our kitchen as much as possible," Peter said. He's also added yoga and corn hole leagues to the Beehive Ballroom, in the brewery's upper level. "Wedding bookings have been one of the only growth areas since the pandemic, although those are getting cancelled now as well," he noted.
Worth Brewing takes its name from its county, which lent itself nicely to the brewery's slogan: "If it's not hand crafted, it's not Worth Brewing."
Peter said a customer recently suggested an alternative: A week without Worth Beer is a worthless week. "I might have to consider adding that one too," Peter laughed.
You can find Worth Brewing on Facebook, and online at WorthBrewing.com.
The brewery is located at 835 Central Avenue, Northwood, Iowa, just south of the Minnesota border off of Interstate 35. Tap room hours currently are 4-8 p.m. Tuesday, 5-9 p.m. Wednesday through Friday, and noon to 9 p.m. Saturday.