Healthy Harvest of North Iowa
Fresh and local food goes from traditional to trendy in Iowa
If you're really into local food, you can't get much more local than driving down a gravel road to buy a free-range chicken from your farmer friend.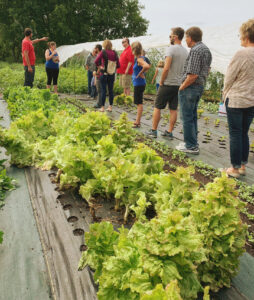 That country drive is a truly North Iowa experience, cementing a neighborly relationship and offering the prospect of delicious food shared with family. It brings to life Marie Boyd's definition of what local food brings to the table. "There are great people, great food, and great experiences," says Marie, Executive Director of Healthy Harvest of North Iowa, an organization whose mission is to connect and educate in support of the local food system here.
"Food brings out emotions, history, and nostalgia, beyond people just needing to eat," she says. "It's about getting to experience that with family, knowing where your food comes from, having good food your family is excited to eat. That's important." But local food is more than putting fresh, healthy food on the table for your family – it's about the entire community.
"Knowing your farmer and getting to have that relationship is important, too," Marie says. "You're also supporting your friends and neighbors who are growing your food. It's so much more than just quenching hunger, it's about the experience."
Marie says the hunger for that experience has grown since Healthy Harvest of North Iowa formed in 2011. Nation-wide, there is increased awareness of where food comes from. Knowing your dinner's history is a commonplace tradition in rural communities, but now it's also trendy. Marie says, "A young professional moving to this area would say, 'I need to know there's food,' meaning the availability of farmers' markets, and beyond that, good restaurants that use local food. It's a slow but sure change." Healthy Harvest is playing a role in making the local food movement grow even stronger in North Iowa.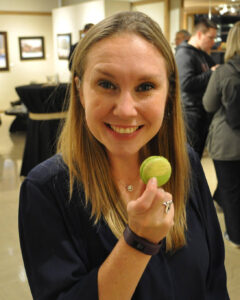 The small part-time team at Healthy Harvest networks with consumers, producers, community leaders, businesses, and educators in support of the local food system. That includes actions such as coordinating educational workshops for producers, demonstrating recipes at local farmers' markets, producing Farm to Fork dinners in North Iowa, and developing partnerships in the region.
In recent years, Healthy Harvest also has organized "The Gathering: Coming Together Around Local Food." a public expo featuring local producers, mini workshops, and kids' educational activities. "It's an engaging space for everyone to find their place within the local food system," Marie says.
The Healthy Harvest website includes a searchable database for local farms, products, recipes, producer profiles, resources for farmers, event information, and more.
Strengthening the local food system in North Iowa means you don't always have to get your car dusty driving to the farm for fresh eggs, fruit and vegetables, or meat. You can pick up your food from one of many growing farmers' markets in towns, buy local produce at grocery stores, and find it on the table at area restaurants that buy ingredients straight from the field – many of North Iowa's independently owned restaurants serve locally sourced ingredients! But sometimes driving that country lane is a fun part of the experience, too.
Local food sourcing is more than a trend
Local food isn't just a trendy hashtag or the latest fad. It's about:
— Local economy – encouraging business development and keeping the money local.
— Health – knowing what's in your food, where it comes from, how it's grown.
— Taste – benefiting from more nutrient-dense food and better-tasting meals.
— Family and community – coming together around the table, enjoying good food and supporting one another.
— Environment – reducing the carbon footprint by decreasing mileage on our food and encouraging sustainable practices by farmers.
"Healthy Harvest works with everybody, farmers of all backgrounds and crops," Marie says. "Traditional row farmers are looking to diversify their businesses, maybe adding a few rows of vegetables, adding a pumpkin patch, or thinking about their practices more critically." More and more young farmers are stepping up to manage the family farm and are diversifying, finding innovative new ways to reach consumers. "You can't always keep growing bigger or faster only in row crops," Marie explains. "We're showing there's demand and market opportunity. If we can prove to someone that vegetable farming can be profitable, we can turn some heads."
The food supply chain drew a lot of attention this year due to interruptions related to the COVID-19 virus.
"When the food system has pressure on it, whether COVID or something else, people turn to the closest source," Marie says. "When the processors took a hit on pork production, local farmers got to see great demand. Local food is right there. There's not an issue of 'Is trucking going on?' or 'Are big food processors there?'"
Most North Iowa producers had planned for increased demand through natural growth of their businesses, according to Marie, so they were not necessarily caught short by pandemic demand. "That's why we bring farmers together to talk."
Marie wants people considering a move to North Iowa to know "there are experiences to be had," like going to farmers' markets and getting acquainted with a local farmer. The producer also can provide great information on how to use an ingredient or even how to grow it yourself. "You can have access to good quality food in a small community way. North Iowa prides itself on a lot of small local businesses, which gives it character, and the local food scene is no different."
Beyond just enjoying some great eating, anyone can get involved in promoting local food.
How can you get involved?
— Spend at least $10 on local food each week. It could be at a farmers' market, vegetable stand, or pumpkin or apple patch. Or you could support local businesses like restaurants and grocery stores that use food from local growers. North Iowans can use www.healthyharvestni.com to find local producers.
— Get involved in the leadership of your farmers' market or community garden
— Consider farming or gardening yourself
— Explore local food events in your community like Healthy Harvest's upcoming Gathering: Coming Together Around Local Food