TRI Clear Lake
Carrie Tysdahl Hits the Ground Running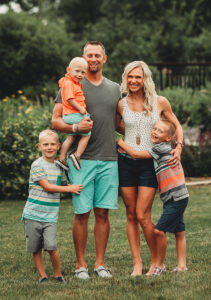 TRI Clear Lake is North Iowa's premiere destination race – a USA Triathlon-sanctioned event taking place on the scenic shores of Clear Lake. Every year, athletes from across America flock to this small Iowa town to test their mettle. How did this get started? One dedicated athlete followed her passion and inspired a community.
Athleticism had always been a key part of Carrie Tysdahl's life.  As a collegiate volleyball player for Northwest Missouri State, she knew what it took to perform at a high competitive level, to focus all her determination and drive, pushing her body to the limit. After college, she turned that focus to triathlons to keep herself motivated to exercise, be healthy, and compete. As a lifeguard for many years, Carrie enjoyed swimming and liked to run, so she purchased a modest road bike and set out in her first sprint triathlon.
From that point on, she was hooked.
Carrie's love for the sport grew over the years as she competed in race after race. With too many under her belt to have an official count, some race seasons she participated in upwards of ten triathlons. Carrie's husband, Troy, who she met at Northwest Missouri State, has done a handful of races himself, but he has now become a self-proclaimed professional spectator. Hauling kids, coolers, lifejackets, strollers for years, he always seems to find Carrie on the course to cheer her on. The Tysdahls have truly made the sport a family affair – Carrie and Troy's oldest son, Tate, has now competed in two events himself.
After college, Carrie and Troy settled in the Kansas City area but soon realized they wanted to be closer to family. Troy was offered a job in the Nashua-Plainfield School District as the Athletic Director, Football Coach, and Social Studies teacher. Carrie's family had a lake home in Clear Lake where they spent numerous weekends in the summer enjoying the quaint tourist town and all it had to offer. When a job opened in the Clear Lake School District, they jumped on the opportunity to find a place to plant roots and raise a family.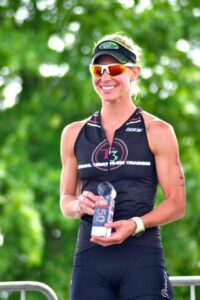 It was after Carrie joined the Clear Lake Area Chamber First Mates program that TRI Clear Lake became a reality. The First Mates assist the Clear Lake area Chamber with ribbon cuttings, customer service award presentations, hosting Business After hours, attending civic function, parades, celebrations, and other community events. When Carrie introduced herself at the first meeting, stating that in addition to her day job she coached triathletes and was a race director in Waverly, the wheels began to turn. Jake Kopriva, another member of the First Mates, thought – What if? Could it be possible to host a triathlon in North Iowa? Carrie and Jake approached the Chamber with the ideaa dream to put on an open water swim, bike, and scenic run along the shores of beautiful Clear Lake.
Thus, TRI Clear Lake was established.
Trish Fundermann joined Jake and Carrie on the TRI Clear Lake Race Director team. With Trish's years of experience planning events for the Clear Lake Chamber, the trio was a fantastic combination to ensure the race went off without a hitch. TRI Clear Lake is a welcome addition to the Clear Lake Chamber's signature events, a height of pride watching athletes from all over the United States come to race and fall in love with North Iowa. The event has grown exponentially each year, attracting athletes from various states around the Midwest to compete in either a Sprint or Olympic distance.
North Iowa is proud to host such a high-caliber event – and who knows what the race directors have up their sleeve in the years to come?  The sky is the limit for potential growth of the sport and for TRI Clear Lake.
TRI Clear Lake is an annual triathlon sanctioned by USA Triathlon, featuring both Spring and Olympic distance races. The triathlon takes place on a scenic course starting at State Park Beach and proceeding along Clear Lakes' South Shore Drive for a lakeside finish in downtown Clear Lake City Park for a high-energy finisher party, complete with music, food and beverages. TRI Clear Lake is a great race for beginners, or for experienced triathletes alike. Learn more at www.triclearlakeia.com.