Frank Lloyd Wright Makes his Mark
World class architecture in the heart of Mason City
For anyone with a love of architecture, Mason City offers the package of world-famous buildings, the chance to impact their preservation, and even the potential to own a historic home at a reasonable price.
"Part of our identity now really is our architecture," says Peggy Bang, a retired art professor at North Iowa Area Community College. She has been involved with historical preservation here since 1990. "Architecture is art. Good architecture lets you have an easier life by the way the building is created."
Mason City has the largest concentration of Prairie School style houses in the United States, according to Robert "Chip" Kinsey, an attorney and president of the board of directors for River City Society for Historic Preservation (RCSHP). The homes are all within walking distance of downtown and the Historic Park Inn Hotel (HPI) facing Central Park. It's the last remaining hotel designed by Frank Lloyd Wright in the world.
In 2017, Condé Nast Traveler magazine placed Mason City as number 8 on its list of the "The World's 20 Best Cities for Architecture Lovers." The magazine singled out Mason City again in 2019 as one of the "50 Best Places to Visit in the U.S. This Year," for the opportunity to stay in the Historic Park Inn Hotel.
Mason City became a hotbed of architectural interest not only because Frank Lloyd Wright and other Prairie School designers got invited to build here in the early 20th Century. Some of the credit goes to many local residents who had the foresight to begin saving these structures. "I grew up in Mason City," Kinsey says. "I never really considered it a tourist town. I think a lot of us didn't appreciate the architecture here because it wasn't talked about."
Preserving the Prairie School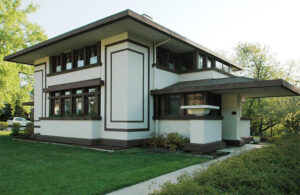 Things started to change when a residence known as the Stockman House, designed by Wright in 1908, was in danger of destruction, as the property was purchased to make room for a parking lot.
The RCSHP, organized in 1987, helped bring attention to the historical significance of the structure. The society ended up assuming ownership of the house, in cooperation with the City of Mason City. The building was moved to its current location at 530 1st Street NE and renovated. The Stockman House is now on the National Register of Historic Places. It opened to the public in 1992, with an architectural interpretive center staffed by volunteers.
In 1972, the downtown building that Wright designed to be a hotel, bank, and legal offices was placed on the National Register of Historic Places. It took over 30 years before the funds, the planning, and the organization coalesced to rescue the deteriorating structure.
Wright on the Park, a non-profit entity, formed in 2005 to own, preserve, and maintain the building. Kinsey and Bang both are charter members and former presidents of Wright on the Park. The renovated hotel opened as the Historic Park Inn in 2011, with 27 guest rooms, restaurant and bar, ballroom, and meeting rooms, operated by HPI Partners, a division of Stoney Creek Hospitality.
"The Historic Park Inn has had people visit from all 50 states four times over, and from over 60 countries in the world," Kinsey said. "It's remarkably successful and on a pretty good financial foundation."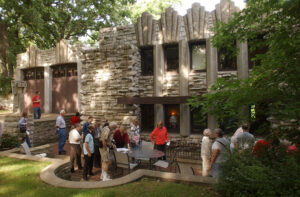 The third star in Mason City's Prairie School collection is the residential neighborhood known as Rock Crest – Rock Glen. Located on both sides of Willow Creek near downtown Mason City, it's the first planned Prairie School development in the U.S.
Wright abruptly disappeared from the Mason City projects in 1910, when he fled to Europe with the wife of a Chicago client. Architects working with Wright took over designing and building homes in this neighborhood, including Walter Burley Griffin, his wife Marion Mahony Griffin, Barry Byrne, and William Drummond. A Mason City architect, Einar Broaten, also became involved in the project.
Visitors can stroll past these privately-owned homes on summer weekends with a walking tour from Stockman House, carrying iPads to view interior photos.
The Cultural Crescent
"I think people like that you can walk to downtown from this neighborhood," says Bang. "It's called 'the cultural crescent.'" This area includes the Historic Park Inn Hotel, Music Man Square, MacNider Art Museum, Rock Crest – Rock Glen, and the Stockman House.
Mason City offers a singular opportunity to not only enjoy looking at Prairie School architecture, but a chance to get involved and maybe even own one of these historic homes.
"One of our neighbors bought a house after they went on a tour here," Bang says. "They left Chicago to come live here because the cost of living is less. It's affordable, there's a good quality of life, and we still have the crafts people who can repair these houses. A lot of work in the homes was custom, because it was unique. People need to know that preserving old buildings is a 'green' type of activity. It's saving materials from going in the landfill, by reusing them and giving them new life."
Kinsey says the smaller size of Mason City makes it easy for someone excited about architecture to become part of the stewardship groups.
"A lot of other things are important in Mason City, but the main reason tourists are coming is to see Frank Lloyd Wright architecture. There's no question there are several people who bought homes here because of architecture, and they want to be involved in preservation. Wanting to be involved as a member of these organizations, as a board or committee member or tour volunteer, is a good reason to come here.
"Architecture is beauty," he says. "Some people think beauty is something we should all look after. And these buildings are not only beautiful, but world famous."