Sculptures on Parade
An artful walking experience in River City
When you enter the heart of a city and explore downtown, you might not expect to see a moose, the belly of a whale, or a couple of eggs playing in a band, but in downtown Mason City, you'll see all this and more with the River City Sculptures on Parade program.
The River City Sculptures on Parade, founded in 2012, is a volunteer-run nonprofit organization with a vision to bring a significant display of public art to Mason City, Iowa. For nearly 10 years, the community has had the pleasure of experiencing the beauty of sculpture art right in their own backyard. Sculptures range from detailed animals, to memorable human experiences, and a wide variety of abstract art. There is something special for art enthusiasts of all ages.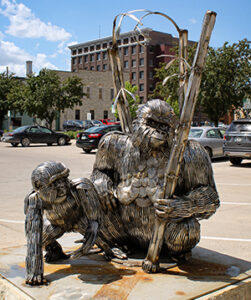 The 1.7-mile walking tour is designed to lead participants around the "Cultural Crescent" of downtown Mason City, immersing them in the architectural and cultural history of the area. Families, tour groups, and occasional passersby have the opportunity to take in the beauty of the art along the walk. Many visitors and residents have found these sculptures to be the perfect opportunity for a family photo or a fun selfie.
In partnership with SculptureOne Partner Network, which has similar sculpture programs in a few other cities in the Midwest, River City Sculptures on Parade brings in art created by artists from the United States and Canada. The rotating sculptures are owned by the artists, loaned to the exhibit for one year, and available for sale or lease.
Every year from June to September, the public votes on their favorite sculpture of the season. The artwork receiving the most votes is given the "People's Choice Award" and is purchased by the city as part of its permanent collection. Some of these sculptures, such as Girlilla and Tiney (right), have become favorites of both tourists and locals alike.
"I'm always surprised that each year, every sculpture has received at least one People's Choice vote. Truly, beauty is in the eye of the beholder, and our exhibit features something for everyone!" said the program founder and committee chair Robin Anderson.
Anyone passing through downtown Mason City can't help but notice the artwork that adorns the streets and welcomes newcomers to the area. As one of many projects in the downtown revitalization process, this celebration of art has become a hallmark of Mason City and a great community asset.