River City Mini Golf
High school student KJ Barkema builds business to help people connect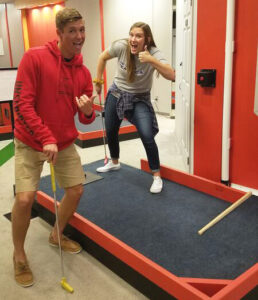 KJ Barkema is one of the many inspiring young entrepreneurs of North Iowa. Although only 18, KJ has founded a thriving business in downtown Mason City: River City Mini Golf, a recreation destination for all ages.
When an injury unexpectedly cut his high school football career short, KJ turned his new spare time and focus to his community. Unable to participate in athletics, KJ converted his PE class into study hall, where he began researching how he could impact the lives and recreation needs of North Iowans. The River City Renaissance, a multi-partner initiative to revive the faded glory of the Southbridge Mall, was on the mind of every resident. KJ realized that he could play a role in renewing and revitalizing his community by bringing year-round, family-focused recreation downtown. "River City Mini Golf was started to bring people together around plain and simple fun," KJ says.
The River City Renaissance inspired KJ to figure out what he could do to bring community back to downtown Mason City. He focused on building a business that would bring families downtown to create a ripple effect of economic engagement; by building an experiential business, KJ determined through market research that neighboring restaurants and retail businesses would also benefit. KJ grasped the practical economic reality behind the truism: a rising tide lifts all boats. "There's so much positive energy coming around Mason City that I'm excited to be a part of," KJ said. "With the revitalization, that's going to be huge and really foreseeing that is a huge part about why I wanted to be located here."
KJ took an innovative and collaborative approach to developing his vision. He enrolled in the Youth Entrepreneurial Academy summer program through the North Iowa Area Community College John Pappajohn Entrepreneurial Center. There, he developed a business plan, found mentors, and made connections with Mason City's business leaders – and was named one of the winners of the Youth Entrepreneurial Academy Pitch Competition. KJ bridged the generational gap that often makes it hard for young entrepreneurs to take a business dream to reality. Young entrepreneurs are an important part of every community. "Throughout history, every major culture shift has been spearheaded by young people," says KJ. "If we underestimate our abilities or minimize our influence, we miss the opportunity to make lasting change."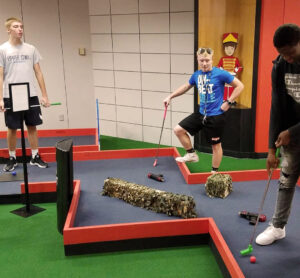 River City Mini Golf opened its doors September 7, 2020. It features 18 holes of mini golf – each themed to reflect a landmark, business, organization, or historic aspect of Mason City. Each hole is sponsored by an organization or business which creates a synergy of cross-promotion. KJ also uses his business to inspire, support, and promote the ventures of his employees, most of whom are also teenagers. When an employee began an in-home bakery, KJ used his platform to give her business a boost.
KJ's innovative, collaborative business plan gained an immediate response. Over 5,000 players visited River City Mini Golf in only 7 months, drawing an estimated total of 6,650 people downtown (combined players and non-players). KJ's market research indicated that many of these people would patronize 1-3 other downtown businesses during their visit. KJ has driven engagement with the community through food drives, recycling drives, and Operation Christmas Child. As one of the few downtown businesses offering a private party room for events, River City Mini Golf has hosted discounted and free events for local youth groups, churches, schools, sports teams, and daycares. When COVID shut down businesses and canceled events, KJ sent birthday care packages to the children whose birthday parties had to be canceled. At only 18, KJ has accomplished one of his goals: to create a safe and family-friendly environment for people of all social groups to enjoy themselves and build connections. "I started River City Mini Golf to push myself and achieve a dream I had at the time. God's grace, hard work, family, and my community made that possible," KJ says.
If you're interested in sponsoring a hole at River City Mini Golf, contact KJ and his team. Each hole is themed for its sponsoring partner – creativity and collaboration are encouraged!
Learn more about River City Mini Golf by visiting them at www.rivercityminigolf.com. Or check out their Facebook page for the latest updates.