Matt Curtis
An entrepreneur transforms his passion for the outdoors into success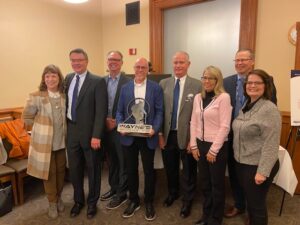 In March 2022, Matt Curtis visited the Iowa State Capitol in Des Moines to receive a notable recognition: the Neal Smith Entrepreneur of the Year Award, presented by America's SBDC Iowa. This award honors Iowa entrepreneurs for their community impact and their key role in driving Iowa's economic growth.
Matt Curtis purchased Wayne's Ski & Cycle in 2004. Matt had never thought of being an entrepreneur or owning a business before. But when the previous owner, Wayne, approached him about buying the business, Matt realized how much he liked the idea. "I followed the dream that I didn't even know I had," he said. "I discovered I wouldn't have to wear a tie or work for a corporation. I loved the lifestyle, working around all the things I liked to do, and I liked selling. It's rewarding to learn about the new products and technologies and help customers better enjoy their lifestyle through better products." Matt is deeply invested in cycling for the physical well-being of himself, his customers, and his employees.
Matt had been working at Wayne's off and on since 1992, first while he attended NIACC and later when he moved back to Mason City to pursue a career in Human Resources. Wayne's was originally founded in 1976 as part of a regional chain of sporting goods stores. When Matt took over Wayne's Ski & Cycle, he kept a locally-owned and operated business alive. Wayne's Ski & Cycle has now been operating continuously in Mason City for 44 years.
Matt's approach to business is focused on the customer — and on his employees. "It's everyone around me who makes this possible," he says. When building up Wayne's Ski & Cycle, it was important to him to make it a place where his employees can learn and grow professionally, contribute their input, and invest in continuing education. Since outdoor recreation and wellness is such a big part of his work and life ethos, he provides facilities for employees to shower, cook, and do laundry — so that early morning bike ride before work is not only possible, but encouraged. For this, Matt was nominated by his employees for and won Boss of the Year for 2020 by the Mason City Chamber of Commerce.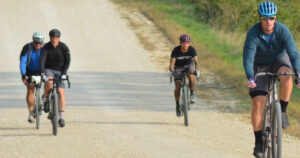 Matt says his important entrepreneurial lesson is simple: "You have to take a chance." In January 2020, Matt bought into the River City Renaissance, the community-wide measure to reinvigorate downtown Mason City. As rural downtowns work on revitalization, local businesses are buying in. "Moving my business back downtown is a huge benefit," Matt says. "Being a part of the downtown community is a win-win for everyone." Mason City's downtown has recaptured the community spirit, adding businesses and entertainment to create a local destination for fun, friends, and family. Matt is excited to be a part of the energy of the River City Renaissance – and now his business is easily accessible for bike commuters and cycling enthusiasts alike.
Matt worked with the NIACC Pappajohn Center & SBDC during their move downtown through the process of purchasing and renovating the new building. The Pappajohn Center & SBDC operate as a fully integrated business assistance center supporting the development of entrepreneurs and the growth, innovation, and successful transition planning for existing businesses. Their work in North Iowa has contributed to our region's notable culture of entrepreneurship. Local entrepreneurs enjoy a business success rate higher than the national and state averages. And, this is the sixth time in six years that a North Iowa entrepreneur has been recognized by America's SBDC Iowa for their entrepreneurial excellence. Tony Halsted of Hoover's Hatchery, Rudd, won the 2016 Neal Smith Entrepreneur of the Year Award; Brad and Angie Barber of Cabin Coffee Co., Clear Lake, won in 2017 (and then went on to win the highly prestigious Iowa's 2019 SBA Small Business Persons of the Year); and Staci Ackerson of Shankland Insurance, Charles City, won in 2018. Sarah Novacek of Legacy Logistics Freight, Mason City, was awarded the Iowa SBDC's Deb Dalziel Woman Entrepreneur of the Year Award in 2016; Yulia Dannen of D&S Services, Mason City, won in 2020.
Matt uses his time and resources to help build cycling and general outdoor recreation for customers of all ages and physical abilities. He sponsors and supports SPIN Devo [Junior Race Team], North Iowa Human Powered Trails, Mohawk Mountain Bike Club, Midnight Ride – Mason City Chamber, Tri Clear Lake, and the North Iowa Touring Club. Matt is a member of the Mason City Chamber of Commerce Worksite Wellness Committee. Matt also works on bringing new visitors to North Iowa through his significant investment in Cannonball CycloCross races, now one of the state's favorite cyclocross races.
For more information, check out Wayne's Ski & Cycle or visit the store
Wayne's Ski & Cycle
15 6th St. SW
Mason City, IA 50401