Northwestern Steakhouse
Iowa's most iconic restaurant & the Papouchis family celebrate 100 years of feeding the community
In an industry where the average life span of a family-owned restaurant is less than four years, the Northwestern Steakhouse has been a Mason City staple for 100 years and counting. Just one bite of melt-in-your-mouth Greek-style steak, and you'll see how it's stood the test of time.
Northwestern Steakhouse was founded in 1920 as Pete's Place. When Anthony "Tony" Papouchis and Pete Maduras started the business near the cement plants on Mason City's north side, Tony had only lived in the United States for about five years and spoke limited English. He brought his cooking skills, which were honed in the Greek Army, and focused on simple recipes with high-quality ingredients. In the classic Greek tradition, the business partners planted a garden behind the restaurant to supply fresh vegetables. As immigrants from Greece, Tony and Pete strove to feed their hard working neighbors.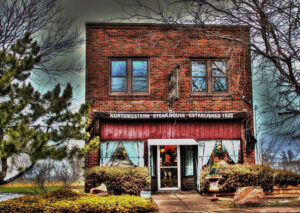 In 1965, Pete sold his share to Tony and the restaurant officially became the Northwestern Steakhouse. Tony's son, Bill, served as manager and took over as co-owner with his wife, Ann, when Tony passed away in 1991.
The restaurant is the recipient of numerous awards, including being named "Iowa's Most Iconic Restaurant" by Thrillist and "Iowa's Most Famous Restaurant" by Insider. Northwestern Steakhouse not only makes the national awards list, but also racks up the regional and local recognitions. "It's become a staple for people and their families when they come home, or birthdays or anniversaries," said Ann.
The Papouchis family planned a blow-out celebration for the restaurant's BIG birthday in July of 2020, but when the pandemic hit, things changed. The steakhouse closed briefly under state government orders, but reopened for take-out orders as soon as it was possible. After all, the restaurant has already weathered Prohibition, the Great Depression, World War II, and the 1980s Farm Crisis since opening its doors in 1920.
Bill and Ann intentionally keep their restaurant small so they can maintain meaningful relationships with employees and customers. "We look forward to seeing families come and they look forward to seeing us as well," explained Ann. The atmospheric dining room features wooden booths and historic photos, transporting customers back in time to Prohibition-era dining.
The restaurant attracts customers from all over the country (including the rich and famous), but the staff strives to treat everyone with the same great service and the same great food (Greek steaks, freshly-baked bread, Greek salads, and that unforgettable buttery spaghetti).
Snagging a seat in the famous local restaurant can be a challenge. Reservations are for larger parties only, so if you want a table for two, you'd best get there early. Lines begin forming in the parking lot in mid-late afternoon to ensure a seat in the intimate dining room.
Northwestern Steakhouse is a North Iowa treasure, and as long as they continue to serve up their secret family recipes, the restaurant will continue to thrive into another century. In regards to grabbing a table – it may not be easy, but the food is always worth it!
Visit Iowa's Most Iconic Restaurant the next time you're in Mason City — get directions or check out their website and social media to see what's new and on special.