Beauty Bar Aesthetics
Two ambitious healthcare workers are building a business based on self-care
What happens when you combine two ambitious hometown healthcare workers with a love for psychology? Beauty Bar Aesthetics.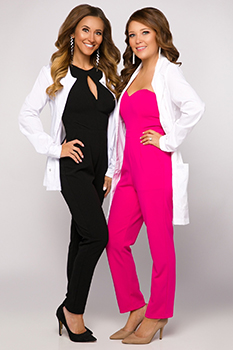 Taylor Stille, DNP, ARNP and Ericha Benson, BSN, RN, both natives of Mason City, have worked within family medicine and psychiatry in North Iowa their entire professional careers, but didn't meet each other until just two years before launching their business together. The business partners planned a mutual friend's birthday party and instantly made a connection, talking aesthetics. At first the two new friends discussed hosting in-home Botox parties, but things took an escalated course and from initial idea to grand opening; these two goal-driven entrepreneurs opened their modern medical spa in just a little over four months.
Taylor and Ericha are both trained and certified within cosmetic injectables and have recently trained with Dr. Gill, a renowned plastic surgeon in West Palm Beach, FL. Taylor has been a Nurse Practitioner (NP) for 6 years now, and Ericha is currently in graduate school working to attain her NP degree as well. While Beauty Bar started as a passion project with services by appointment only, it is quickly picking up business and the duo hopes to have more regular hours and fulfill their mission of boosting their patients' self-esteem.
"I love the psych side of healthcare. If you feel good on the outside, you will feel even better on the inside," explained Ericha when asked why she got into the field of aesthetics. "The feedback from our patients is so rewarding."
Beauty Bar offers a variety of services including lip fillers, Botox, facials, PDO threads, and IV drips. Before now, North Iowans would have to drive at least 2 hours one way to receive aesthetic services of this caliber and variety. While some of these services are typically offered in a hospital setting, Ericha and Taylor wanted their medical spa to have a different atmosphere – they wanted patients to feel comfortable, at home, and positive about their experience. When you open the doors to Beauty Bar, you get that exact feeling. Greeted by modern furniture, bright white walls adorned with pink accents and neon signs, it's an upscale place to boost your self-esteem.
It's more than a business, it's a labor of love. With the help of family, friends, and their handy husbands (one an electrician and one a contractor), they were able to remodel their space in just two months, and the result is beautiful. "We enjoy what we do. We are able to combine our love of aesthetics and medicine and help people feel confident," said Taylor.
Feel and look your best – right here in North Iowa. Find these "big-city" services on the corner of South Federal Avenue and 6th Street Southeast in Mason City. Look for the pink neon lights to welcome you to a newfound confidence.