Clear Lake Connected
Young entrepreneurs using their skills to lift up the community
It's not often that high school students start a real, fully realized business. Sure, you'll have the occasional lawn service or dog walkers, but they're usually on a small scale. A fun, easy way for teenager to earn some quick cash. They don't typically include a business plan, an investor-ready pitch, marketing plan, and a professional website. In Clear Lake, however, two high school entrepreneurs are defying expectations and using their skills to not only build a business but help their community.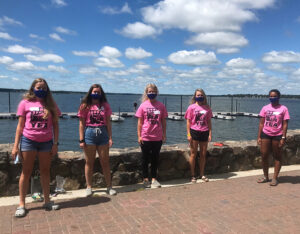 In the summer of 2020, Paige Rolling and Jillian Enke saw a need in Clear Lake for small business digital marketing services. Between the technology-driven advances of the last decade and the impact of COVID-19, the way people shop has drastically changed. Online shopping is still on the rise, and social distancing measures and public health precautions can make browsing in person tricky. Small businesses are realizing that they can't rely on just foot traffic and word-of-mouth – a digital presence is becoming a necessity. Ramping up a small business's social media presence and then giving shoppers a place to buy online creates an instant leg-up on the competition.
Social media has taken the world by storm. Over the past decade, new platforms have regularly popped up, connecting the world in a way it has never been connected before. They offer a way for businesses to bring their brand virtual and spread awareness. It's also a tool for companies to engage their customers online, or to handle customer service issues quickly. With the added option of paid advertising, companies can target the exact people they are seeking. The options are limitless.
Paige and Jill are what the business world likes to call digital natives – they've grown up with technology, they've been on the forefront of the social media wave, and they have an intuitive understanding of how digital marketing and social media can impact a business and a community. They decided to use these skills to help create and push content for local companies. In July 2020, Paige and Jill attended the NIACC John Pappajohn Entrepreneurial Center's Youth Entrepreneurial Academy to help make their idea a reality. The Youth Entrepreneurial Academy (YEA), sponsored by the Hanson Family Foundation, is held every summer and provides high school students with the opportunity to learn the fundamental skills to start their own business and become an entrepreneur.
Paige and Jill developed their business plan for Clear Lake Connected at YEA. They used YEA to make valuable community connections and conduct customer discovery, narrowing their business focus to the small business owners of Clear Lake striving to increase their brand awareness by utilizing social media. Through the Youth Entrepreneurial Academy, Paige and Jill learned a lot about what it takes to start a business. "We met so many awesome people who have helped us tremendously in developing our business skills," Paige said. Jill added, "The program helped us kick-start our idea and gained connections that made our business possible!"
Since 95% of what they do is done remotely, Jill and Paige would love to continue Clear Lake Connected after high school. Jill plans to attend Iowa State next fall to major in aerospace engineering, and Paige is leaning toward Iowa State as well, but is still undecided. However their future plans evolve, Paige and Jill have a bright future in store. Their innovative, critical thinking and digital expertise are why young entrepreneurs are the future of our communities.
For more about Clear Lake Connected, visit their website at www.clearlakeconnected.com or find them on Facebook.