Lake Time Brewery
Bob Rolling transforms a hobby into the fastest growing craft brewery in the US
When you enter Lake Time's brewing facility, the sign above the door to the production area reads, "Welcome to my Little Hobby." Pushing through the double doors, you soon realize this is so much more than a little hobby. While it may have started that way, it's now grown into a full-on production system, armed and ready to make the best beer possible for the discerning public.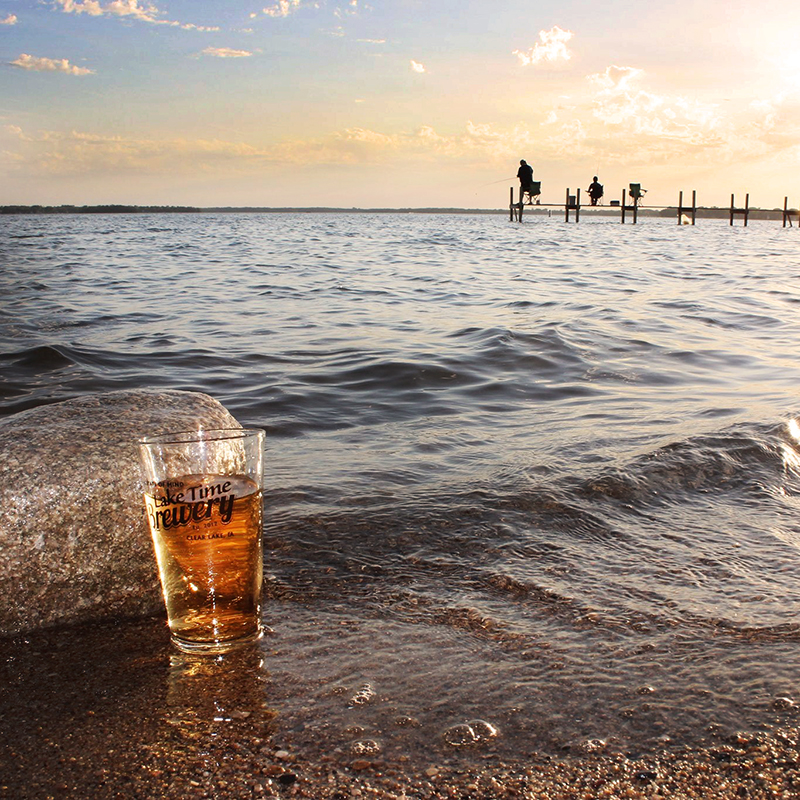 Lake Time Brewery was founded by Bob and Suzy Rolling in 2012. Bob's interest in craft beer started in 1999 as a homebrewer and really picked up when he was a stay-at-home dad for a year – with some extra time on his hands and a lot of motivation while watching the kids, he began to perfect his home brewing recipes. As he tinkered with flavors and recipes, he realized that Clear Lake was the natural place for a microbrewery and taproom – and if he didn't do it, someone else would. After beginning to write a business plan, he decided there was no better time to put the wheels into motion.
"If I hadn't done it, with the way the brew industry was exploding, someone else would have," Bob said. Clear Lake is a popular year-round destination whose population nearly doubles in the summer. The numerous festivals, street fairs, live music, arts, and other events bring in a healthy crowd of locals and visitors year-round. As the craft beer industry continues to grow, microbreweries and taprooms are rising in the ranks as tourist destinations. The growing craft beer industry is a great draw for small towns, and insightful entrepreneurs with a passion for brewing like Bob Rolling are seizing the opportunity.
The rest, as they say, is history.
Bob soon realized there was much more to opening a brewery than just loving beer and tweaking a few recipes. He enrolled in the Launch & Grow program, an intensive entrepreneurial training course through the NIACC John Pappajohn Entrepreneurial Center, utilizing their expertise and knowledge in creating a successful business. He hammered down his business plan, funneling his dreams and ideas into an actionable course forward.
And so, Lake Time Brewery opened its doors in the spring of 2013.  Located on the corner of 8th Street and Main Ave in Clear Lake, Bob brewed one barrel at a time in the backroom, just enough to remain open for three days each week.
And the people came out in droves – enjoying pints in the taproom, filling growlers to take home. Within 5 years, the Lake Time Brewery taproom was a hit with both locals and tourists alike, and was distributing to 23 counties across northern Iowa and 8 counties in the Des Moines/Ames area. Lake Time Brewery has been featured in several industry publications including Brewery Magazine, Brew Your Own, and Perfect Pour. The loyal following of craft beer enthusiasts across the Midwest continues to grow, consistently ranking Lake Time Brewery as high on the list of Iowa craft brewers and driving requests of an ever-wider distribution range.
Soon, the demand for Bob's beer began to exceed his capacity to produce.
In 2016, Bob purchased the brewing facility located on East Main Ave. With this addition came the acquisition of equipment that allowed them to brew 30 barrels at a time (930 gallons) instead of just one 31 gallon barrel. This expansion meant more brewing, more jobs created in Clear Lake, and more beer for everyone. Bob hired Brandon Nelson as a full-time brewer, which was like finding the missing piece to a puzzle. Between the two of them, they were able to create a line of possibilities for every type of beer lover. Twenty-two beers in all are now available for craft beer lovers to enjoy.
As demand grew, Lake Time Brewery continue to expand to meet it.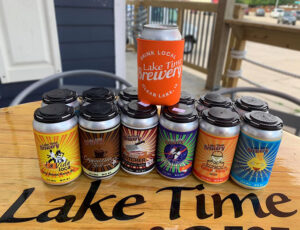 In 2017, Bob purchased a canning line, and distribution began on an even greater level, again creating more jobs and getting Lake Time beers into bars, restaurants, and retail locations across the state. You can now find Lake Time Brewery's beer in about two-thirds of Iowa's counties.
An additional room was added to the taphouse in 2017, and the following year a wrap-around deck area created an abundance of outdoor seating. The other half of the production facility building came up for sale, and Bob knew he had to jump on it. With this acquisition in 2018, they were able to add an extra walk-in cooler, another office, a weight room, and plenty of additional storage, making it possible to buy supplies in bulk, cutting costs and improving their margins.
In 2021, Lake Time is looking to grow again. With the recent hiring of another salesperson, Bob plans to expand into the Minnesota market. He's hoping to double the brew capacity which not only means making more beer but adding more jobs on site.
Still, with all these additions and production at max capacity, Bob still strives for one thing: to make good beer. Over the years, even with all the fancy flavors and intriguing varietals they've come up with, it's his original American Wheat home brew, Sandy Bottoms, that has held the test of time.  "It might not be the best beer we've ever made, but it's approachable," Bob stated. "People who don't regularly drink craft beer tend to shy away from the IPAs or the dark brews, but Sandy Bottoms has really held up as a fan favorite."
While Bob enjoys brewing what the people want, he also likes to mix things up a bit, thinking outside the box and pushing the boundaries of "socially acceptable" beers. He says it's their willingness to not follow trends and coming up with their own styles that sets them apart from other breweries. In 2019, Lake Time Brewery was recognized as the Fastest Growing Small & Independent Craft Company by the Brewer's Association, and continues to receive accolades and rave reviews for their brews.
Expansion. Increased distribution. Quality craft beer.
They are truly living their motto of creating beer snobs one pint at a time!
Visit the Lake Time Brewery website to find their newest brews.