Finding New Horizons
Musicians of all ages make a space for rediscovering their passion
You never forget how to ride a bicycle or how to play a band instrument.
Carol Johnson of Mason City learned to play the alto saxophone while a student at Northwood-Kensett schools and remembers marching in the annual North Iowa Band Festival. She got a degree from State College of Iowa in junior high education, with music as a subject field.
Then she went 45 years without even owning a saxophone.
"What do you do with an alto sax? You really don't play it in church," Johnson said of that interim. But she and her sister heard about the New Horizons Band in Mason City and decided to join together in 2013. "So I refreshed myself on fingering. It's a new outlook, and I'm playing music again. I just love it."
She pointed out that this region is full of opportunities to enjoy music, such as the Una Vocis Choral Assemble or concerts in the auditorium at North Iowa Area Community College. "I like the camaraderie with others," Johnson said of New Horizons. "I'm meeting new people and reacquainting with people I didn't know played instruments, not just from Mason City but other area communities."
The New Horizons program started in 1991 at the Eastman School of Music in New York. Designed for people over age 50 who enjoy playing music, the nationwide organization today includes more than 200 bands. The Mason City chapter began in October 2004, with seven people coming to the first meeting. It's now a full concert band, with a whole range of instruments and 68 registered members.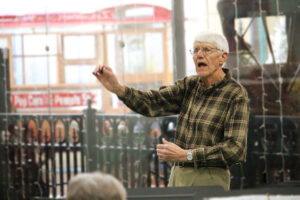 Johnson's gap in experience is fairly typical, according to Bernie Bjorklund who is director of the Mason City band. "It gives older adults a chance to play, especially people who haven't played for a while. Maybe  they played in high school or college. A lot haven't played in 30 or 40 years," he said. "Pretty much everyone in the band is retired. They enjoy being around people and playing music. We do all types of concert band music, including marches, ballads, and show tunes."
Bjorklund has built his life around bands. Both he and his wife taught at the former Nora Springs-Rock Falls school district. He was a public school band director for 36 years and retired in 2004. They moved to Mason City three years ago. "When I retired, David Vikturek at Music Man Square called to ask if I'd be interested in leading New Horizons," Bjorklund said. Band members play together 40 weeks a year: 17 times in fall, 17 in spring, and six in summer. They also perform public concerts in spring and at Christmas.
New Horizon Band rehearses at 3:30 p.m. every Wednesday. There's also a practice at 2:30 p.m. on Tuesdays, for anyone who wants more time to play or needs help with a difficult part. Members pay $5 per rehearsal. "That goes towards buying music, rental of equipment like music stands, and a very small part goes to me for directing," Bjorklund said. The band meets in Music Man Square, Mason City's public center for music in the community. The downtown site honors the legacy of Meredith Willson, who was born in Mason City and composed the famous stage musical "The Music Man."
"Practicing in Music Man Square is a wonderful place to be," said New Horizons member Craig Remmen. "I played in 4th grade band, had music lessons, and played alto sax through high school in South Winneshiek. I sold my saxophone and didn't think about playing again until retirement."
Remmen moved to Mason City in 1971 after high school and retired just over three years ago. "I went to a KCMR Radio Christmas program at NIACC and saw the New Horizons Band. I wondered if I can do that. After 45 years, I started again." He rented a saxophone for a while, just to see if he could still play. "I had some old church hymnals where I knew the music and could play a melody I recognized."
Remmen praised Bjorklund for his patience and skill. "He brings out the best in you and makes you want to work hard. And he's able to work with adults and not make us feel like we're back in grade school. He doesn't talk down to us. Bernie's good at picking out music that's challenging enough for good players, but not so overwhelming for those of us who are not that we get discouraged."
Several times a year, members pool some money and go to Fat Hill Brewing a few blocks from Music Man Square for a pizza party. "It's a nice venue for talking to other band members. The band is a social, learning organization to be a part of. The music gives you the 'in' to start visiting with people and develop deeper friendships," Remmen said. His participation also led to him being asked to be part of a jazz dance band that he otherwise wouldn't have known about. Remmen also bought a tenor saxophone from another member when she was ready to sell hers. "It's something I never would have ventured into, and now I own both tenor and alto sax."
Remmen said if he ever left North Iowa for another area, he would look to see if the next location had a New Horizons band. "It's been absolutely delightful. It's given me more confidence and a whole new broad spectrum of things to do. It's positive and creative."
To learn more about the New Horizons band in Mason City, visit The Music Man Square.