The State of North Iowa
Two communities with a united vision
On January 22, 2020, community partners from across North Iowa united to put on the inaugural State of North Iowa address. The Mason City Chamber of Commerce, Clear Lake Chamber of Commerce, North Iowa Corridor EDC, and the cities of Clear Lake and Mason City are active partners in the Vision North Iowa strategic initiative, in addition to NIACC and the NIACC Pappajohn Center & SBDC. The Vision North Iowa strategic initiative is a multi-year roadmap that builds on our region's strategic priorities, unique assets, and successes.
What's the goal of Vision North Iowa? Simply put – to grow a stronger and more dynamic North Iowa by capitalizing on our strengths. North Iowa has a lot going for it and a lot going on – ample career opportunities, a culture of entrepreneurship, a unique and exciting array of recreational and cultural activities – the list goes on! North Iowans are committing to growing new businesses and opportunities right here where we live – and we're seeing investors starting to believe in North Iowa too.
As Chad Schreck, President and CEO of the North Iowa Corridor EDC said at The State of North Iowa, "We've got a lot of great things happening in Mason City and Clear Lake right now and across the county. We're seeing growth, we're seeing investment. We've had well over 320 million dollars in private investment in the county this past year in projects that have completed, been announced, or in progress or are getting ready to go this spring. Just an incredible amount on the business side, on the housing side, even on the public side with things like the [new multi-purpose] arena."
The State of North Iowa event was inspired by the Vision North Iowa strategic plan – with so many partners and organizations working on improving our region, it's important to keep everyone updated. The State of North Iowa was open to the public and included a presentation of several important statistics.
Among those statistics is a 1.3% increase in the employment rate over the year and 2.6% decrease in unemployment. One of the statistics that generated the most chatter was the $319 million of capital investment in Cerro Gordo County during 2019 alone.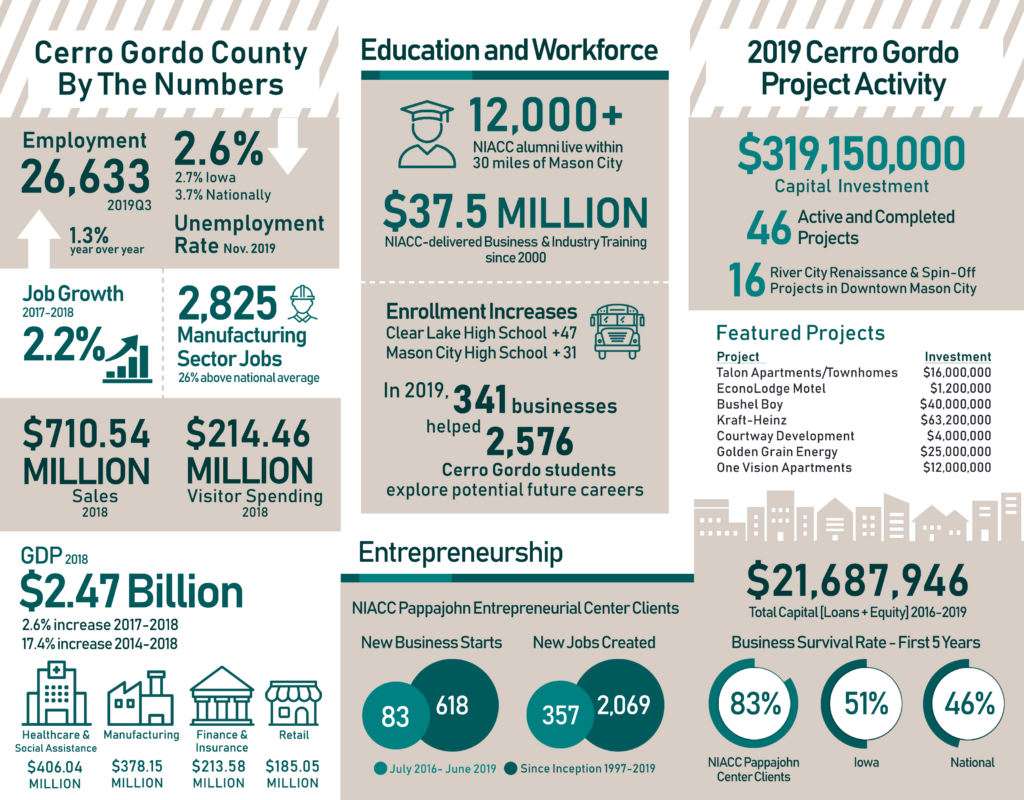 Debi Durham, Director of the Iowa Economic and Development Authority and the Iowa Finance Authority, joined The State of North Iowa event to deliver the keynote address. "When I walked in the door I said, 'Wow,' the very first words out of my mouth. When you see how the community came together and all the elements of this reinvestment district, when you finally start seeing things come together, this is actually transformational. It was very exciting and I assume that the citizens are equally as excited as the state is about this,' she said.
There's a lot of positive activity going on in North Iowa and it's largely due to the power of collaboration. Of course, this kind of work is never done. Luckily, one of the best parts of North Iowa is its people and their passion for building up their community. North Iowa has a talented network of individuals and organizations who are working together to bring in jobs, increase educational attainment (including skilled trades training programs), increase the skilled workforce, and further improve the lives of all North Iowans. Vision North Iowa continues to work on its goals and will continue to share its progress with the community.