North Iowa Events Center
A regional destination for recreation shows it's more than just a fairground
The North Iowa Events Center in Mason City is transforming into a top regional destination for equine, livestock, commercial, and social gatherings. Making something positive out of the pandemic downtime in 2020, the NIEC board turned to major upgrade projects to keep staff employed and improve its facilities. Now the results are impressing exhibitors and guests.
"When COVID-19 started, everybody thought it was negative for us, and we were not sure where it would lead," said Jim Barkema, interim director of the NIEC and former North Iowa Fair Board member. The center's event buildings and arenas were closed, weddings cancelled, and lockdowns in place. But the chance to take a step back meant the North Iowa Events Center could look inward and begin working on improvements.
"We're doing upgrades, and people are hearing about them," he says. "Permanent upgrades. And it's evident to show-promoters that we're really trying to change."
NIEC offers multiple large indoor spaces for weddings, commercial exhibits, trade shows, small stage events, sporting events, agricultural events, and parties. It also attracts numerous horse and livestock shows, with indoor and outdoor arenas. The entire grounds and grandstand frequently welcome major shows, such as the national Pyrotechnics Guild International convention. Locals generally call it "the fairgrounds" because of the annual North Iowa Fair held here for more than 65 years.
The biggest improvement work in the past year has been rebuilding floors in the livestock buildings. Stalls and barns were dug out, raised, and leveled, with new clay and lime chips, according to Barkema. Previously, the old floor levels had compressed and dropped so much, stalls took on water during storms. The Curran Barn is getting a major external facelift, with all-new steel siding and agricultural curtains that can be rolled up or down for ventilation.
With the construction of the new Mason City Arena downtown, the North Iowa Event Center's indoor arena which was previously converted into an ice rink each winter can now be used year-round for horse and livestock events. The height of the railing has been raised to make it safer, since it no longer has to accommodate the skating rink windows. The arena got new lighting, announcer stand, and gate systems.
Indoor exhibit spaces also underwent major upgrades. Guests can now gather in greater comfort, with improvements to heating and cooling, modern accessible restrooms, and LED lights. With the help of a Kinney-Lindstrom Foundation grant, the building bearing its name got a total make-over: new kitchen, new bar area, and new restrooms.
Mason City Motor Speedway at the NIEC also has totally reconfigured the track in the past year, according to Barkema, attracting more than 100 cars for the first event of this season.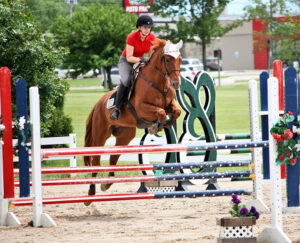 Not only does NIEC serve the local community's needs, the equestrian and livestock events bring in hundreds of families from other states for recreation and competition. More than 20 horse events are booked at NIEC this year, with attendees from all over the Midwest. These cover multiple breeds and disciplines: hunter/jumper, barrel racing, Buckskin show, Pintos, Ponies Of America (POA), and Iowa Quarter Horse. Barkema said livestock events include cattle, llamas, swine, and possibly lambs this fall. The NIEC can stall up to 350 horses on the grounds and provides 120 camping spots.
Dan Urban, of the Mid States Horse Shows, said NIEC is listening to customers' needs and actively making things better. And he should know, after coming here for equine events since he was a kid. The Mid States Horse Shows has been a regular visitor at NIEC for several decades. Urban's family bought the equestrian competition management company in 2013. He said the previous owners reportedly chose this site for shows because it was a central Midwest location that was easy to get to on Interstate 35.
Mid States runs four licensed hunter/jumper shows here each year, two in June and two in September. Urban estimated they recently filled nearly 320 stalls each week for an event, though some are used for equipment. That equates to approximately 250 to 280 horses, with three to four support people for each horse. About three-quarters of those families stay at local hotels, and others camp at the NIEC's shady campgrounds.
Dan's parents own the Quail Run Horse Center in Elkhorn, Nebraska, since 1987. Dan and his two brothers manage and produce the Mid States shows; his wife Maureen helps with secretarial and hospitality duties; his mother Patrice serves as secretary; and his dad is on the advising organization committee as well as handling behind-the-scenes work. Dan has worked as a professional for the family business since finishing college in 2006. He's also U.S. Equestrian Federation licensed, so he can judge competitions.
"Last year was a big deal because of COVID," Urban said. "There was suspension of competition from mid-March, because several shows were connected to schools. The first week we could run a show here was June 1, and we were one of only five competitions going on in the U.S., so we had a lot of people wanting in."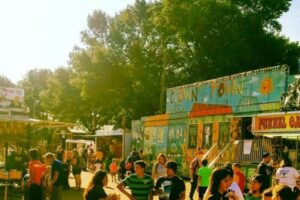 Urban is pleased with what he's seen going on at NIEC the past two years. "The staff's been great to work with. They've been really receptive and approachable to have conversations about what could be better. They're doing what they can in terms of keeping the grounds in good shape and bringing in more horse events in general."
"I think people really like the atmosphere we have at the fairgrounds," he said. "A lot of people have been coming here for a very long time."
This year's North Iowa Fair will also see big changes. "With the board we've got and because of the gap last year, we decided we can make things different," Barkema said. The fair is moving to August 5-8 in 2021, to avoid conflicting with other regional fairs. He said Clear Lake Schools have developed a strong Future Farmers of America (FFA) program, so choosing that weekend means local members now can show and compete closer to home. The NIEC also has 28 acres of farm ground managed in cooperation with the Clear Lake FFA, to help sustain the program through sale of crop. Three concerts are scheduled as "parking lot parties," outdoors but with the arena kept open in case of rain. The fair will include 4-H events, livestock shows, the Bill Riley Talent Show, commercial and in-home exhibits, small stage events, chain saw sculptor, inflatables, agricultural equipment, and a couple of hot-air balloons.