Country Axe
When looking for a unique experience hits the target
What happens when you take a big personality and a whole lot of country? A new business in recreation and entertainment located in the heart of downtown Mason City.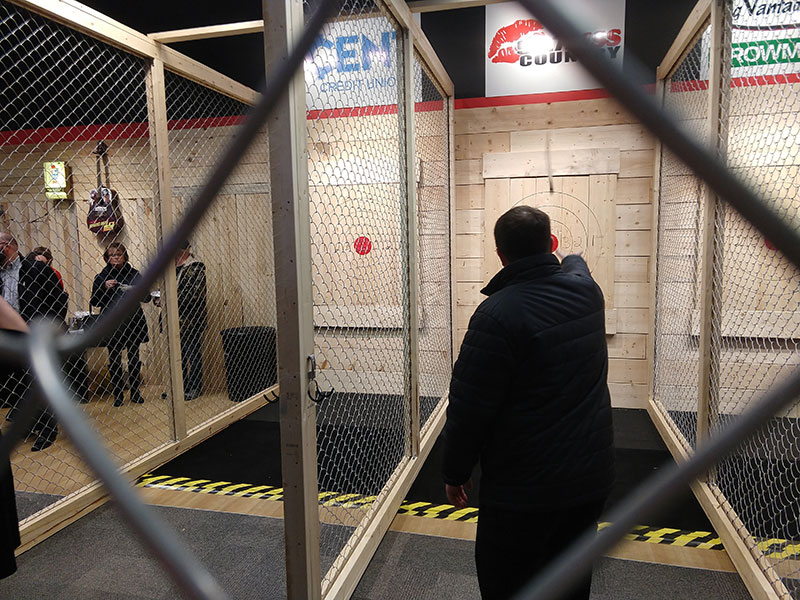 Whether you're cruising into North Iowa listening to country music on your radio or spending your evenings throwing axes, you're bound to catch the voice and charisma of local radio personality J Brooks. Brooks has been a DJ and morning radio personality for more than 20 years. After decades in the radio business fostering his love for country music, J had plans to move to Nashville to be in the center of the country music scene. However, with life changes and the addition of beautiful grandchildren, Brooks and his wife decided not to make the move — they wanted to stay in North Iowa to help their children raise families in a place they loved.
A change in dreams doesn't come without some compromise. If J wasn't moving to Nashville, he wanted to start a business of his own in North Iowa. J's wife Deb had been on a work retreat to Des Moines and spent an evening at an axe throwing venue. Deb knew right away this was right up J's lane. When she returned home, J caught onto the excitement and began researching the business. They traveled to Okoboji to visit yet another axe throwing facility, taking notes and making adjustments to add this fun, new amenity to North Iowa.
Within months, planning was underway and they found a space in the Southbridge Mall to open up shop. With the addition of the new multi-purpose arena and restaurant/bar in the mall, the location seemed perfect. They took up the space formally occupied by Footlocker and began minor renovations to the suite.
The space was coming together, but the business still needed a name. J knew he wanted to incorporate his country roots and his love for music. While the main role of the space would be an axe throwing venue, he also had dreams to add live country music. "I was driving home from work one day and was thinking about how I wanted country acts to perform and that was it – Country Axe," Brooks explained.
Country Axe opened in January 2020. Two months later, the pandemic threatened to derail their hard work. But, they persevered. The family-owned-and-operated business offers a number of different axe throwing games to a wide variety of ages who gather for friendly competition. Youth ages 12-17 may throw with adult supervision, and Brooks said he's had guests in their eighties throwing as well. The country-themed venue hosts six lanes and is open Thursday-Saturday evenings, with hours varying in winter and summer. For just $20/person, you can enjoy an hour of throwing. Reservations may be made in advance, but walk-ins are welcome.
"It's my man cave away from home. Country Axe is a family-friendly atmosphere. We don't care if you're 18 or 85, we just want everyone to have a good time," said Brooks.
The fun doesn't end with their storefront in the mall. Country Axe now has a 2-lane mobile unit (ages 18+) and a 2-lane inflatable unit (all ages) folks can rent for parties, festivals, and fairs. Brooks has plans to add live music, league(s), and tournaments, while also expanding to other locations in Iowa and Minnesota.
If you're aiming for a good time in North Iowa, you must try your hand at axe throwing. J, Deb, and their family will show you the meaning of "North Iowa Nice," and you'll get a real feel for country fun. They've hit the bullseye when it comes to unique recreation in Mason City, and we think you'll agree. Check out Country Axe online for the latest updates.